Flights to Multan, Pakistan - Travel Tips & Information

Find with us cheap Flights to Multan from Muscat and discover the main city of Southern Central Punjab province. Multan is one of the oldest cities in South Asia. With this, it brings a hugely diverse and rich history that combines both the old and the newest facets of Pakistani culture. Multan is known as the City of Sufi's or City of Saints. The 'Old City' has many elaborate and beautiful shrines to celebrate these significant historical figures that display incredible workmanship and architecture throughout.
Looking to fly to Multan? See below for our most popular flights
Within the hustle and bustle of the old town, visitors can enjoy tiny traditional shops where craftsmen can be found still creating works of art out of copper, brass and silver using traditional techniques. Amidst these impressive workshops are hundreds of shops where many local goods and souvenirs can be bought including beautiful embroidered cloths, painted pottery, hand-carved wooden goods.
Multan Fort is a highlight that is not to be missed. A structure reaching over 6,000 feet tall overlooks the city from across the Ravi river. From the highest point of this in iconic construction, tourists can enjoy a full panoramic view of Multan.
The 'New City' is best known as the commercial and industrial hub of the city. The comfort of many 5 star hotels, fine dining restaurants and shopping can be found after a long day of sight-seeing throughout this stirring destination.

If you are ready to fly to Multan, all that you need to do is to use the widget below.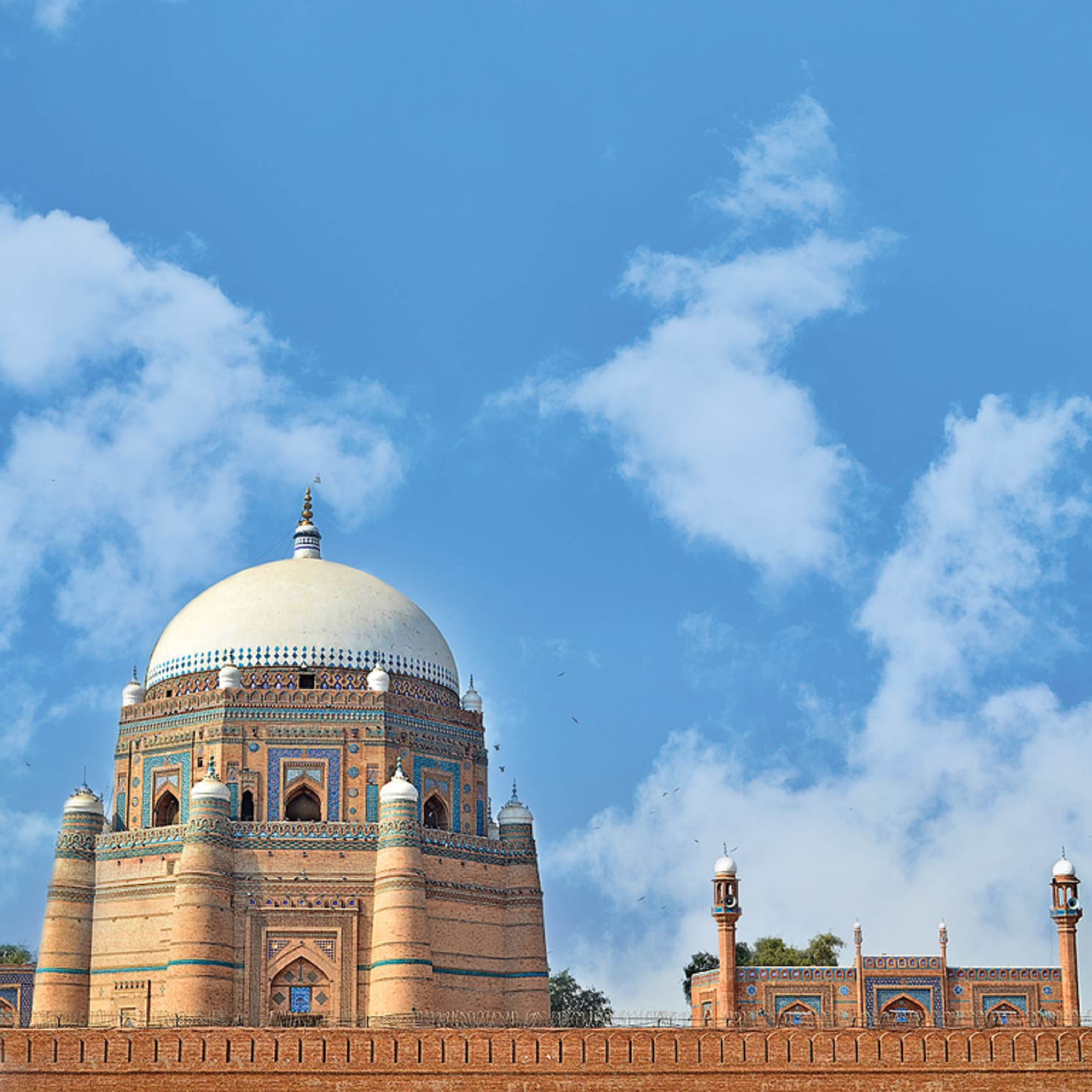 The 'Old City' of Multan also known as The Walled City of Multan, is surrounded by an ancient wall which has been destroyed and rebuilt many times during its lifetime. Enter through the ancient city gates to experience the vibrant streets and imagine what life was like centuries ago.
Multan Fort is situated on a hill near the Old City and offers those who visit amazing views of Multan. Estimates of the Forts original construction date back to between 800 and 1000 B.C, making it one of the most ancient structures in Multan.
Known for its superbly designed tombs, Multan experiences an influx of pilgrims annually making their way to the many tombs and shrines located in the city. The Tomb Shah Rukne Alam, Tomb of Bahauddin Zakariya, Tomb Shah Shams Sabzwari Tabrez, and the Shrine of Shah Yusuf Gardezi, to name a few, are beautiful examples of stunning architecture and design.
---