Flights to Istanbul, Turkiye - Travel Tips & Information 
Looking for a new adventure? SalamAir can make it real with cheap flights to Istanbul from Muscat.
Cultural and economic hub of Turkiye, Istanbul is the biggest city in Turkiye and the seventh largest city in the world in terms of population with a population of 13.4 million, making it also one of the largest cities in Europe and the world. Its located on both sides of the Bosphorus, the narrow strait between the Black Sea and the Marmara Sea, Istanbul bridges Asia and Europe both physically and culturally.
Looking to fly to Istanbul? See below for our most popular flights
 Throughout its long history, Istanbul was the capital of a number of countries and empires including the Roman, Byzantine, Latin, and Ottoman Empires.
Istanbul has a temperate oceanic climate which is influenced by a continental climate, with hot and humid summers and cold, wet, and occasionally snowy winters.
The city hosted 11.6 million visitors in 2012, making it the world's fifth most famous tourist attraction. The Sultanahmet Square remains its historic hub which is listed as a UNESCO World Heritage Site, but its cultural and entertainment hub can be found across the city's natural harbor, the Golden Horn, and the Taksim area.
Turkish people are well-known worldwide for their hospitality. They are fiercely proud of their rich culture and traditions and they love to meet new people and never hesitate to talk to tourists and visitors.
Use the widget below to discover the tickets to Istanbul on offer!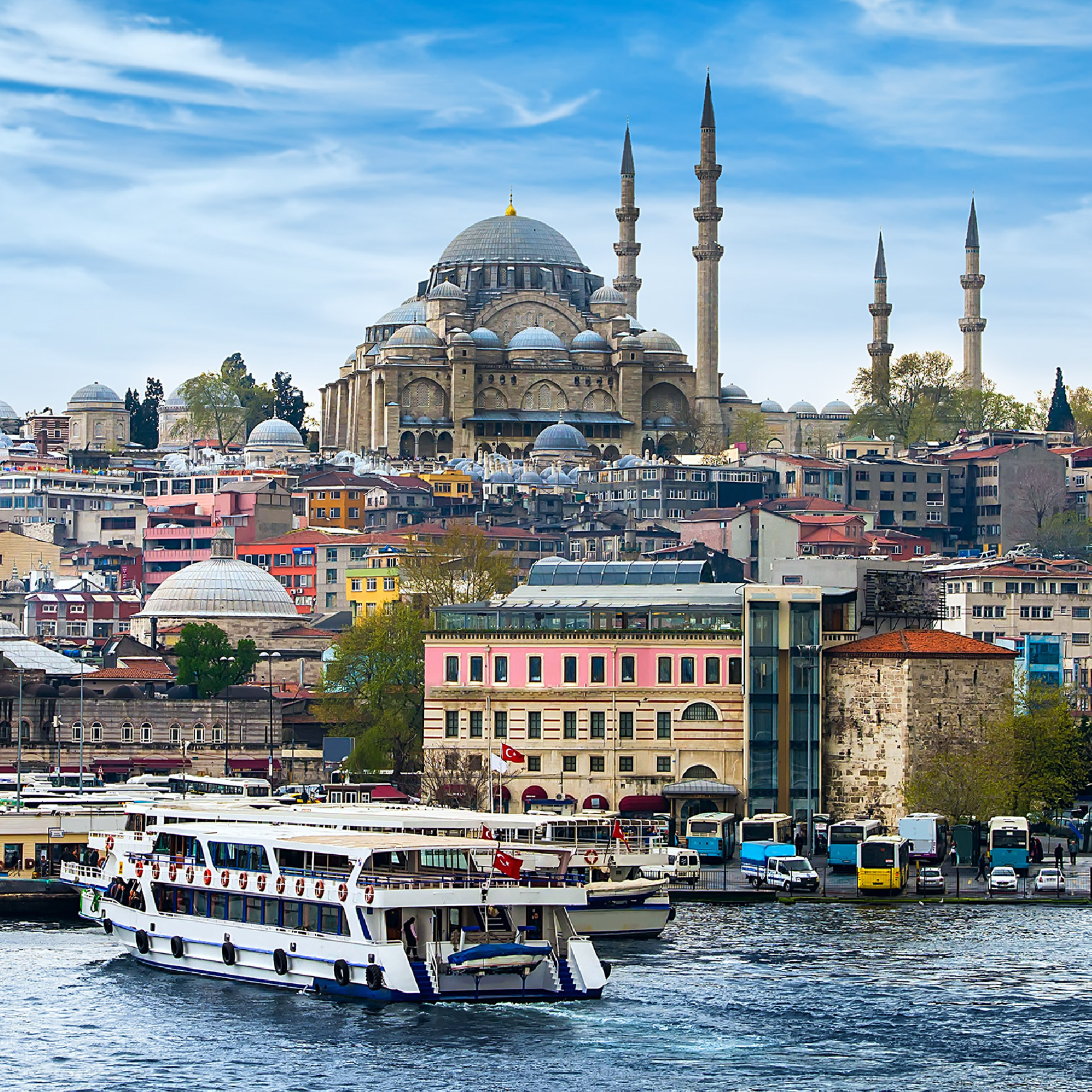 Sultan Ahmed mosque: One of the most popular Mosques in the city was was built between 1609 and 1616, during the reign of Sultan Ahmed I. It's known as the Blue Mosque because of the blue tiles that decorate it. Same like most of the Ottoman mosques, it contains the tomb of the sultan who founded it.
Chora Museum: This building was originally one of the most beautiful Byzantine churches, and in the 16th century it was converted to a mosque under the command of the Grand Ayatollah Ali Pasha, then converted a museum in 1948. The mosaic and frescoes decorate the roof and walls of this museum.
Gray Falcon Canal: this canal was the main source of water for Constantinople and was repaired several times by many Ottoman sultans after being damaged by erosion over time.
Ataturk Park: Its a great destination for those looking for fresh air and relaxation. It is one of the most beautiful places in Istanbul. It has three beautiful lakes and lots of trees and green views that are rarely seen elsewhere.
---