Flights to Alexandria, Egypt - Travel Tips & Information
Looking for adventure? SalamAir can make it real with cheap flights to Alexandria from Muscat. Alexandria is the second-largest city in Egypt, extending about 32 km (20 mi) along the coast of the Mediterranean Sea and about 55 km northwest of the Nile Delta.
Looking to fly to Alexandria? See below for our most popular flights
The city plays an integral role in the industrial sector of Egypt because of its natural gas and oil pipelines from Suez.
 Alexandria is well known for its largest ports (Alexandria and Dekheila Ports), As well as the two popular airports (Nozha and Borg El Arab Airports).
 Alexandria's climate is affected by the Mediterranean Sea, moderating its temperatures, causing variable rainy winters and moderately hot summers.
 Excited for some Alexandria travel? Check out the widget below to search for tickets!
 There are many cultural, tourist, sports and political activities in Alexandria, especially after being selected as the capital of Islamic culture for the year 2008.
 The city also organizes several festivals such as the Alexandria International Film Festival, The International Cultural Festival, the cultural and artistic festival of the Mediterranean countries, and the Arab Music Festival. The library also organizes many conferences, events, and festivals. While the cultural centres, palaces, creativity centres, and bookstores are spread throughout Alexandria.

SalamAir runs direct flights to Alexandria each week, use the widget below to check out the cheap flights to Alexandria!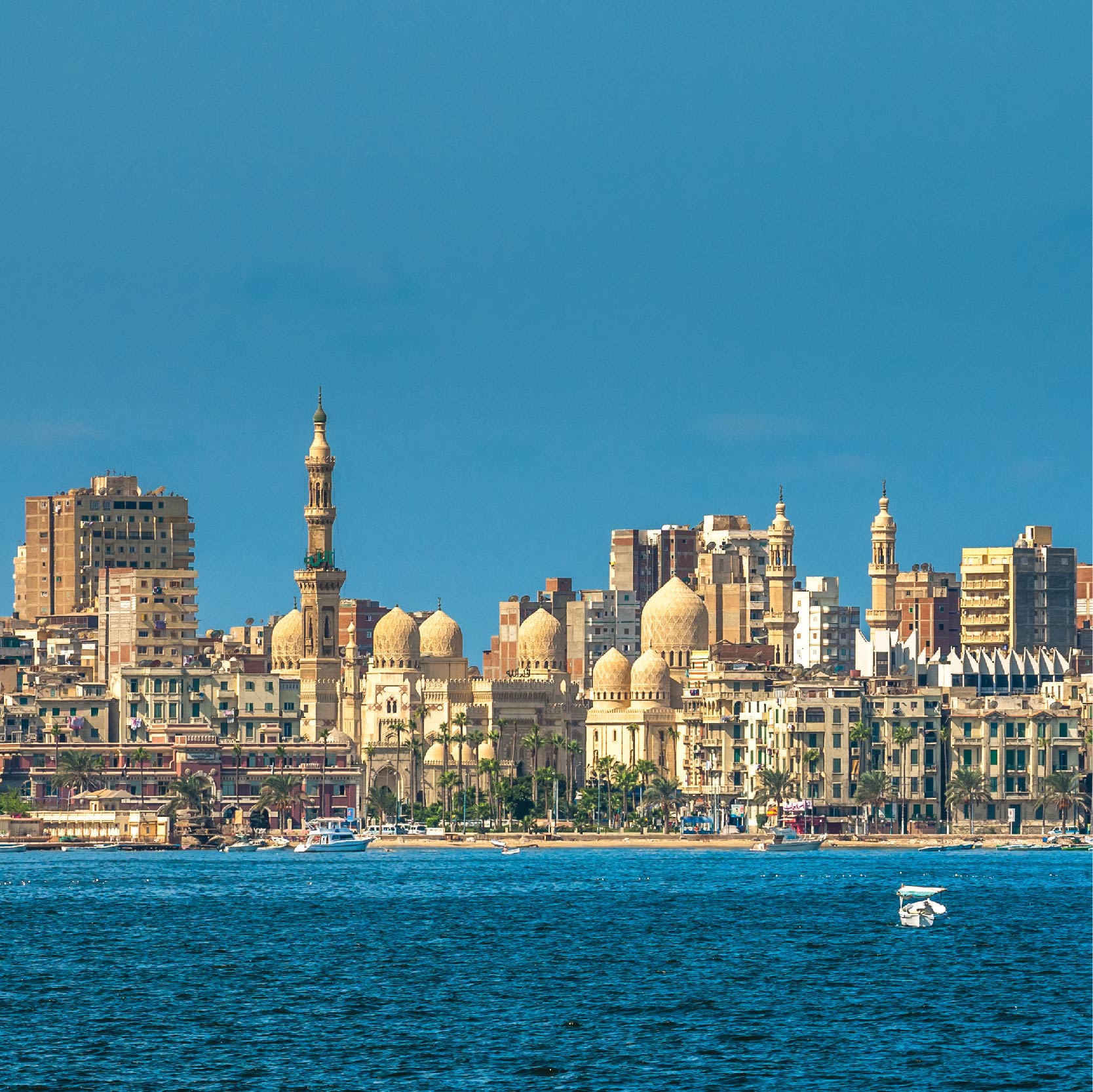 While in Alexandria, you should head to the famous library where the arts meet with history, philosophy, and science. The library includes more than 8 million books, six specialized libraries, three museums, seven research centers, permanent exhibitions, six halls for various art exhibitions, an exploration hall and a conference center.
Alexandria has been known for its deep history throughout many historic landmarks such as the famous lighthouse, which was one of the seven wonders of the world because of its massive height around 120 meters and remained until it was destroyed by an earthquake in 1307.
Visit El-Mursi Abul Abbas, one of the most popular Mosques in Alexandria which was redesigned and built by Eugenio Valzania and Mario Rossi between 1929 and 1945. The temple is certainly one of the most beautiful mosques in Egypt as well as one of the most spiritually significant places to go to while visiting Alexandria.
To explore Alexandria's lifestyle, head to the shopping malls that occupies several large buildings with dozens of clothing and footwear shops, souvenir and perfumery stores and specialized shops with household goods. There are also some stores offering electronics and even auto shops.
---