Flights to Sarajevo, Bosnia and Herzegovina. Travel Tips & Information
Sarajevo, the capital of Bosnia and Herzegovina, lies in the narrow valley of the Miljacka River at the foot of Mount Trebević. 
Sarajevo was the biggest and most important Ottoman city in the Balkans after Istanbul. Sarajevo was known to be a melting pot of cultures in the way different faiths co-existed in the city. In its small old town, you could find a mosque, an Orthodox church, a Roman Catholic church, and a synagogue.
Ideally, you would want to spend two to three days in the city to make sure you have covered what the city has in store. Stroll around the Old Town, shopping for souvenirs at Baščaršija, visiting the old Bazaar building not forgetting the attractions along the Miljacka river and a visit to the Sarajevo War Tunnel are some of the must-do activities. 
Sarajevo offers you Mediterranian weather with warm yet pleasant summers followed by cold snowy winters. 
SalamAir is the first low-cost airline in Oman and fly from Sarajevo to Muscat and onward to over 20 destinations, click the below to explore cheap tickets to Sarajevo!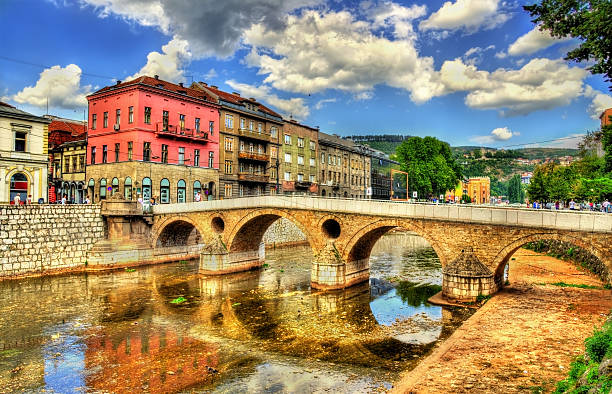 Bascarsija Mosque 
Bascarsija which is in the heart of the city, is filled with mosques, churches, synagogues, and is symbolic of the multiplicity of Sarajevo. The historic Bascarsija Mosque is a national monument in Bosnia-Herzegovina. Constructed in 1527, the Bascarsija Mosque has one main dome and a 35-meter-long stone minaret. Its entrance is distinguished by a portico courtyard with three arches and cupolas. The most remarkable features of the mosque are its acoustics and hand-drawn details that embellish its interior.
The Mountains
Sarajevo is a city surrounded by mountains. Stunning peaks emerge over the city and the most well-known peaks are Trebevic, Jahorina, Igman, and Bjelasnica. These mountains offer some of the best and most reasonable slopes in Europe during winter. Jahorina and Babin Do are the most accessible slopes. The mountain trails offer incredible treks for hikers in summer with the hike to the Trebevic summit being the most popular, offering great views and the joy of scaling the city's most renowned mountain.
The Yellow Fortress
One of the most popular landmarks in the city, the Yellow Fortress built in the 18th century as part of the walls surrounding Vratnik is a perfect spot to view Sarajevo's red-roofed cityscape. During Ramadan, the cannon fired from the fort, lets people know that they can break their day's fast.
 Latin Bridge
One of the oldest Ottoman bridges, the Latin Bridge was built in the 16th century. It connects two halves of Sarajevo that are separated by the Miljacka river. The name, Latin Bridge, derives from the Latinluk Quarter.
---