Flights to Kuwait, Kuwait - Travel Tips & Information

Nestling at the top of the Gulf, Kuwait is one of the Arab countries flanked by Iraq, Iran and Saudi Arabia. With an area of 17,818 thousand square kilometers and the length of the coastal line along with the islands, reaches approximately 500 kilometers. This beautiful city can be reached through SalamAir's cheap flights to Kuwait, departing from Muscat regularly.
Looking to fly to Kuwait? See below for our most popular flights
 The state divided into six governorates: the capital, Al Farwaniya, Al Ahmadi, Mubarak, and Al Jahra.
 The Climate in Kuwait is composed of long hot, dry summer months and short winter. The cooler season starts from December to February while the hot season starts from April to October.
 Kuwait became famous for its popular culture, especially in terms of television, theatre, radio, music, soap opera. Within the Gulf Arab states, Kuwait's culture is very similar to Bahrain's culture and this is because of the close association between the two countries especially in theatrical productions and soap operas.
 It is worth mentioning that Kuwait has a deep history of pearl's fishing, it is one of the famous pearl exporters in the Arab region. You can visit many places, museums and old ships where this history is described.
 Where the desert meets the sea, Kuwait City includes lots of attractive places which are not to be missed such as Kuwait towers, Al Hamra tower, Green island, Flika island and Kuwait National Museum.
If you're ready to fly to Kuwait, use the widget below to book your trip!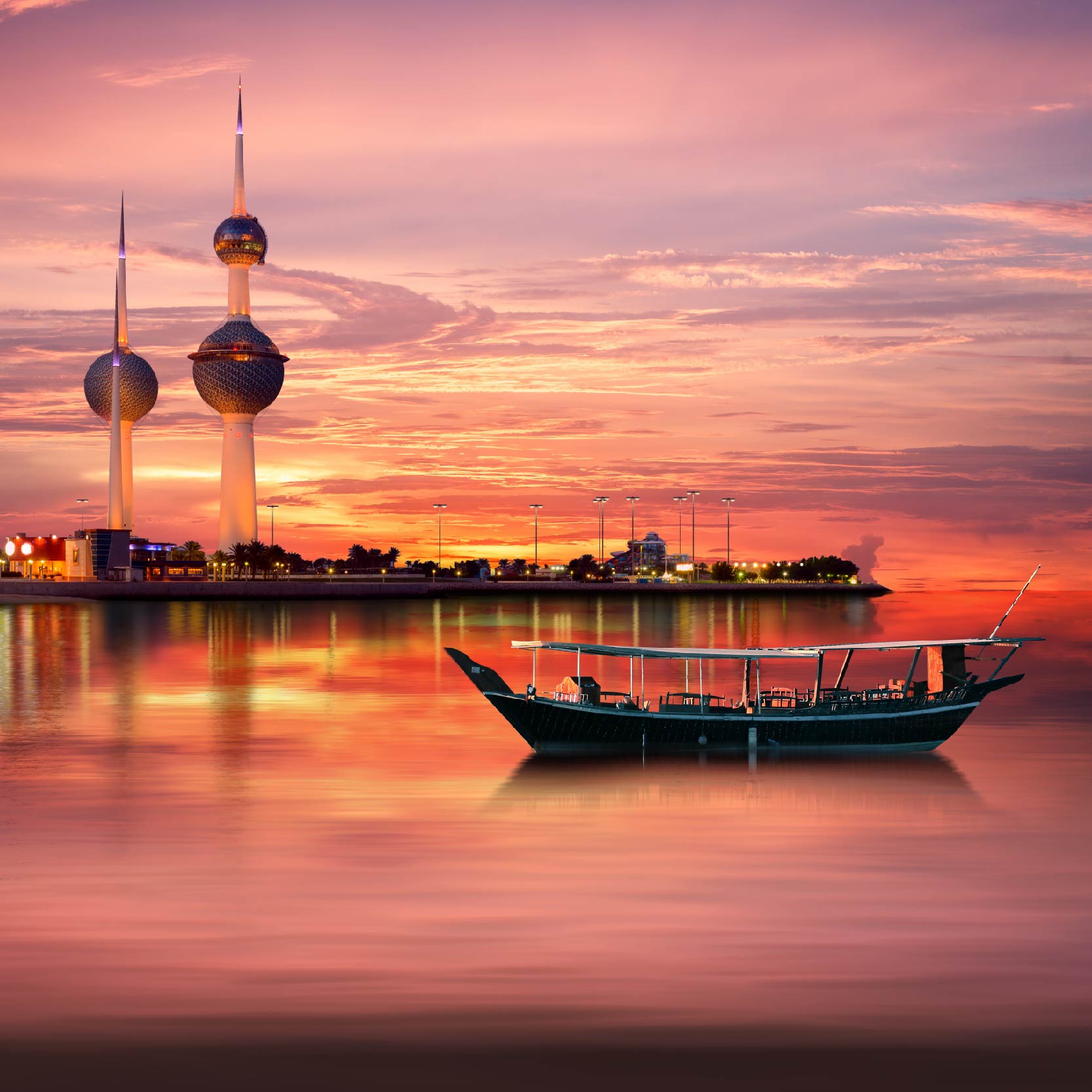 Explore Mubarkiya Souq, one of the oldest and most popular markets in Kuwait. It was founded prior to the discovery of oil, located between Abdullah Al-Mubarak, Abdullah Al-Salem, and Palestine Streets. Al-Mubarakiya features a wide range of stores such as dates, honey, spices, vegetables, fruits, meat, fish, accessories, gold and silver products.

While in Kuwait, you should visit Kuwait's Towers, a group of three slender towers which were constructed in March 1979 and are considered as an iconic landmark of modern Kuwait.

Find out more about Kuwait's religion and traditions with a visit to the largest and the official Mosque of Kuwait, the stunning Grand Mosque. Internationally, this mosque is renowned for its Islamic architecture and it has become one of Kuwait's most treasured landmarks.

Head to the Mirror house in Kuwait City, an incredible treasure of art that refers to Khalifa and Lidia Al-Qattan and it's now acknowledged as a museum as the wife of the renowned Kuwaiti artist has turned their house into a work of art using broken pieces of glass to decorate the outside and inside of the house.
---