Flights to Prague, the capital city of the Czech Republic. Travel Tips & Information
Looking to travel to a unique travel destination? SalamAir can make it real for you with cost-effective flights to Prague from Muscat and Salalah.
Prague, the capital city of the Czech Republic, offers everything that makes a successful holiday, from pristine island destinations, charming alleys, beautiful cathedrals, impeccable art galleries, robust bridges, and much more. 
Full of captivating ambiance, Prague is a modern metropolis pulsating with life and is rightfully considered one of the finest cities in the world.  Prague is a popular tourist destination offering a variety of sightseeing and entertainment options.
Standing amidst a dreamy setting of riverside and charming bridges, Prague is celebrated for being one of the most well-preserved cities in Europe.
Justly called the "city of a thousand spires", Prague is about magnificent views of gorgeous domed churches and soaring old towers making it one of the world's architectural gems.
The remarkable presence of architectural monuments led to Prague's historical center being included in the UNESCO World Heritage List in 1992. The capital city is truly outstanding and contains every architectural and artistic style. 
SalamAir operates direct flights to Prague each week, use the widget below to check out the cost-effective flights to Prague!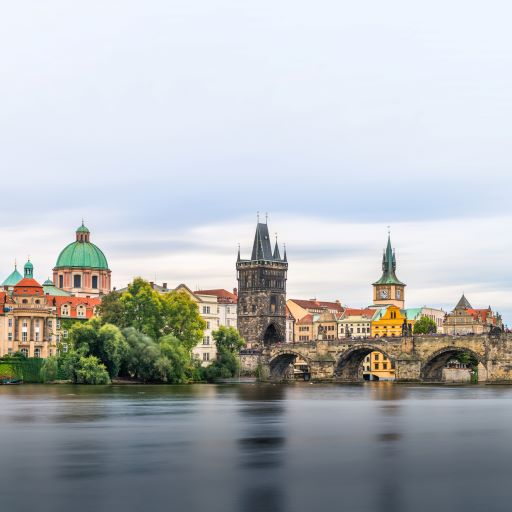 Prague Castle
The most important landmark of the Czech capital is Prague Castle. It was founded in the 9th century and became the seat of Czech rulers and later presidents. The castle, one of the largest complexes in the world, is made up of historical palaces, offices, church and fortification buildings, gardens, and picturesque spots. It covers an area of 45 hectares. The panoramic view of Prague Castle is one of the most spectacular in the world.
Charles Bridge
Strolling across the popular pedestrian Charles Bridge is a must when you visit Prague. A stone Gothic bridge that connects the Old Town and Lesser Town (Malá Strana) is filled with musicians, painters, vendors, and tourists. The bridge is particularly known for its multiple old statues and for the stunning views of the River Vltava and the structure's magnificent Gothic gates.
National Museum
Showcasing various significant collections epitomizing a variety of fields such as archaeology, mineralogy, anthropology, and zoology, the National Museum is among the top tourist places to visit in Prague. The archaeology display is the focus of this museum and includes Roman artifacts of the first and second centuries. Visitors can marvel at giant bronze and early iron age finds in the archaeology section too. 
Wenceslas Square
A 700-meter long and 60-meter wide boulevard Wenceslas Square is the place to head if you like historic architecture and shopping opportunities.
Originally a horse market in the Middle Ages, the square today hosts plenty of small and large shops, cinemas, banks, hotels, and restaurants.
---