Flights to Mashhad, Second Largest city of Iran. Travel Tips & Information
Looking to travel to a unique travel destination? SalamAir can make it real for you with cost-effective flights to Mashhad from Muscat.
 The capital of Khorasan province in northeast Iran and the second largest city in the country, Mashhad is best known for its beautiful pilgrimage shrine of Imam Rez. Every year millions of people visit the holy shrine considered the largest and most magnificent of its kind.
 Mashhad is located 850 kilometres northeast of Tehran and has a population of over two million.
 Mashhad is a tourist city with many hotels of various categories and many guesthouses for the pilgrims and tourists who come to this city from every part of the world.
 The city's climate varies with very cold winters, pleasant springs, usually mild summers and beautiful autumns.
 SalamAir operates direct flights to Mashhad, use the widget below to check out the cost-effective flights to Mashhad!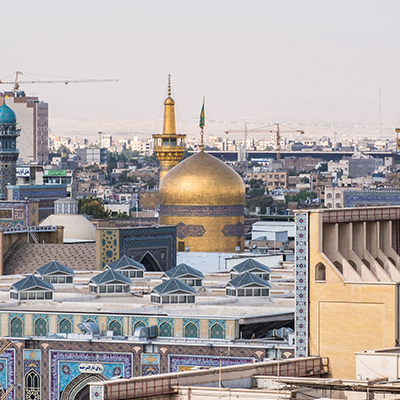 Imam Reza Holy Complex
Imam Reza's holy shrine is a complex of urban structures and infrastructures, buildings and museum collections created and developed in different stages throughout the history and is a witness of the continuity of traditions within the history and culture of Iran and the Islamic world.
Goharshad Mosque
Goharshad Mosque is one of the remarkable architectures left behind by the Timurid Kings (1370–1507). It is one of the most well-known mosques in Iran, and one of the top attractions in Mashhad. Its mesmerizing beauty has made it one of the top cultural, historical, and religious attractions.
Koohsangi Recreation Place
One of the most beautiful spots in Mashhad, it is a must-visit place. To the front of this hillock stands a summer house with a large pool which runs 100 meters in length and 60 meters in width. This pool is fed by subterranean waters from the Gonabad area. Running alongside are paved paths and trees which enhance the beauty of this area which is also famed as 'Dalan-e-Behesht' meaning the corridor to paradise.
Kashaf Rood River
This magnificent river flows in the valley of Kashaf Rood. Its source is in the mountain ranges of Binalood and Hezar Masjed and Nayshabur. The river is 290 km in length and later joins with Harir Rood River and from then on flows in the name of Tajan towards the north and finally penetrates the sandy regions in Turkmenistan. The Kashaf Rood River offers plenty of recreational centers too.
---