Flight to Lucknow, Republic of India. Travel Tips & Information
Lucknow, a large city in northern India, is the capital of the state of Uttar Pradesh. Lucknow is the heart of the architecture, art, cuisine, dance, culture, and music of Northern India
Lucknow is a city with buildings that showcase a range of ancient architectural styles, most of which date back to Mughal or British occupancy.
With much to explore Bara Imambara, Chota Imambara, Rumi Darwaza, Hazratganj market, The British Residency, Lucknow Zoological Garden, and Chowk are some of the locations that speak volumes to cities rich roots.
SalamAir is the first low-cost airline in Oman and fly from Lucknow to Muscat and onward to 20 destinations, click the widget below to explore cheap tickets to Lucknow!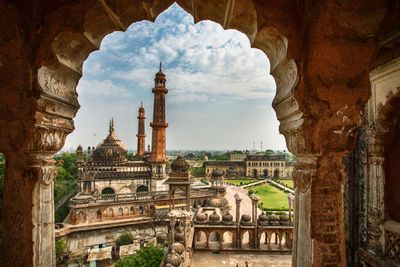 THINGS TO SEE
Pazhassi Raja Museum And Art Gallery – History And Culture
Thikkoti Light House – Must-visit Place
Kozhikode Beach – Stunning Views
Mananchira Square – Beautiful Scenery
Beypore – Picturesque Views
Kadalundi Bird Sanctuary – Bird Watching
Thali Temple – Offer Your Prayers
Calicut Planetarium – Star Gazing
Mishkal Mosque – Beautiful Place Of Worship
Mother Of God Cathedral – Religious Place
Peruvannamuzhi Dam – Amazing Location
Krishna Menon Museum – Artefacts And Art
Lion's Park – Entertainment For Kids
Kozhippara Falls – Mesmerizing Waterfalls
Thusharagiri Falls – Magnificent Waterfalls
Kakkayam – A Stunning Dam
Sweet Street – Sweet Tooth
Elathur – Vacationing Destination
Vellari Mala – Trekking
Sargaalaya Kerala Arts – Stunning Backwaters
Kappad Beach – Serene Beach
Canoli Canal – Boat Rides
Kallai River – Breathtaking Sight
Payyoli – Magnificent Village
Muchundi Palli – Beautiful Mosque
Lokanarkavu Temple – Ancient Heritage Site
Azhakodi Devi Temple – House Of Worship
Valayanad Temple – Stunning Architecture
HiLite Mall – Shopping Spree
Focus Mall – Entertainment For All
Bara Imambara
Chota Imambara
British Residency
Rumi Darwaza
Chattar Manzil
Dilkusha Kothi
Husainabad Clock Tower
Amrapali Water Park
Four Seasons Fun City Water Park
Aminabad Market
Hazratganj Market
Chowk
Indira Gandhi Planetarium
Ambedkar Park
Nawab Wahid Ali Shah Zoological
Garden State Museum
Ram Manohar Lohiya Park
Gomti Riverfront Park
Janeshwar Mishra Park
Chandrika Devi Temple
Fun Republic Mall
Jama Masjid
Constantia House
Satkhanda
Charbagh Railway Station
---