Flights to Baghdad, Iraq. Travel Tips & Information
Find cost-effective flights to Baghdad from Muscat and visit one of the most beautiful cities in Iraq. 
 
Baghdad is Iraq's capital city, and with a population of approximately 8 million people, it's also the largest city in the country. Located along the Tigris River, Baghdad is the second-largest city in the Arab world after Cairo. The city is known for its rich history, dating back to the 8th century, and has been a centre for Islamic and Arab culture for centuries. 
 
Baghdad quickly became a significant cultural, commercial, and intellectual centre for the Muslim world. Its location made it a hub for scholars and traders alike.  
 
Baghdad remains a city of great cultural significance. It's home to numerous historical and archaeological sites, including the Abbasid Palace, the Mustansiriya School (one of the oldest universities in the world), and the Al-Kadhimiya Mosque. 
 
Baghdad was famous for its literary and intellectual gatherings, known as the "majlis," where poets, philosophers, and scientists would meet to exchange ideas. This tradition continues today, particularly on Mutanabbi Street, which houses the city's largest book market. 
 
Modern-day Baghdad is a bustling metropolis with a diverse population. Additionally, improvements are being made, and the city is slowly rebuilding and modernizing. 
 
The city has much to offer in terms of history and culture. From the Iraq Museum, which houses artefacts from ancient Mesopotamia to the bustling markets offering traditional crafts and spices, there's a wealth of experiences for those who visit. 
 
SalamAir offers direct flights to Baghdad three times a week. If you're excited to fly to Baghdad, use the widget below to book your trip!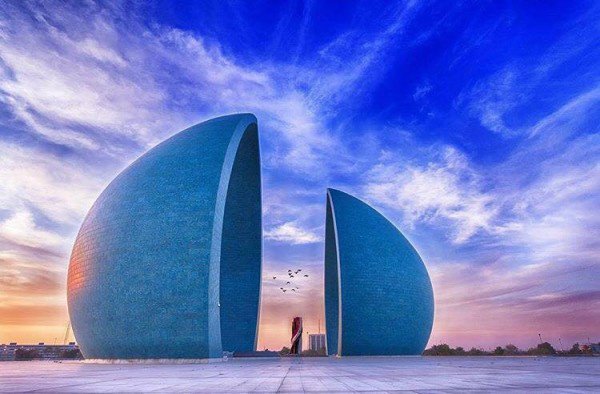 The Iraq Museum 

As one of the best archaeological museums in the world, The Iraq Museum is a treasure trove of artefacts from the Mesopotamian civilization. The museum houses over half a million objects that span over 5,000 years of history, including artefacts from the Sumerian, Assyrian, Babylonian, and Islamic periods. Visitors can marvel at ancient cuneiform tablets, statues of ancient gods, royal treasures, and stunning wall reliefs from palaces in Nineveh and Nimrud. 
 
Baghdad Island 

This popular recreational spot offers a delightful break from bustling city life. Situated on the Tigris River, Baghdad Island provides a variety of activities for families and individuals alike. Its lush greenery, amusement parks, and restaurants offer a perfect setting for a relaxing day out. Boat rides are also available, allowing visitors to enjoy the serene river views. 
 

Al-Mutanabbi Street 

Named after the 10th-century classical Iraqi poet, Al-Mutanabbi Street is the historic centre of Baghdad bookselling. Every Friday, the street comes alive with its bustling book market, drawing intellectuals, students, and tourists. The street is also home to the famous Shahbandar Café, where visitors can sip traditional Iraqi tea while immersing themselves in intellectual discussions. 
 
---