Flights to Kuala Lumpur, Capital city of Malaysia. Travel Tips & Information
Looking to travel to a unique travel destination? SalamAir can make it real for you with cost-effective flights to Malaysia from Muscat.
 Selamat Datang (Welcome) is a greeting you will hear everywhere you go. Kuala Lumpur is a destination where a variety of cultures come together to offer a unique experience to visitors. Where else can you savour the delectable street food with one of the world's most iconic structures for a backdrop. 
 Filled with Malaysian hospitality, in this much-loved destination, fun and world-class sophistication come together to create distinctive experiences for tourists.
 Kuala Lumpur, the main gateway to Malaysia has a variety of attractions ranging from culture, heritage, places of interest, shopping, entertainment, adventure, sports, business, and wellness.
 It is no wonder that Kuala Lumpur has been constantly ranked as a 'top 10 city destination' in the world by Euromonitor International. The city is sure to excite, surprise and entice whoever visits it.
 The city's weather is perfect for lightweight clothing and drink lots of water for a fun-filled day exploring this bright and sunny city. Occasionally, there's rain to cool down the weather and relieve the heat.
 SalamAir operates two direct flights to Kuala Lumpur each week, use the widget below to check out the cost-effective flights to Kuala Lumpur!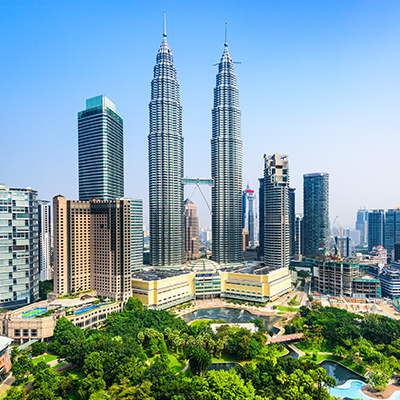 Petronas Twin Towers
Malaysia's proudest icon and architectural wonder, Petronas Twin Towers are the tallest twin towers in the world. It is lined with a continuous shopping and touring experience. The Towers succeed at recognising Malaysia's past and future, embracing the country's heritage while proclaiming its modernization. The buildings are linked at the 41st and 42nd levels by a distinctive skybridge, open to the public at selected hours for an unparalleled view.
Kuala Lumpur Bird Park
It is the biggest free-flight aviary of its kind, with 29 acres of space for more than 3,000 birds across 200 different species to fly. Home to gleaming blue peacocks, flamingos, hornbills, ostriches, and other bird species, this Malaysian park is a popular spot for nature lovers and families.
Petaling Street
The bustling Petaling Street in Kuala Lumpur is also known as Chinatown among the locals. This colourful tourist-oriented shopping area is peppered with shops and stalls selling mostly, food, clothes, bags, watches, and souvenirs. Well known for both its imitation goods and its culturally diverse culinary options, the vendors sell everything from designer bags to traditional food.
KLCC
Aimed to be 'a city within a city', Kuala Lumpur City Centre houses Malaysia's most popular landmarks. Easily accessible from all sides, it also houses some enormous hotels with spectacular views over the city. The shopping, commercial, and entertainment hub in KLCC is called the Golden Triangle. Around KLCC, tourists have a lot of interesting things to do, including sightseeing, shopping, dining, exploring arts and entertainment.
---